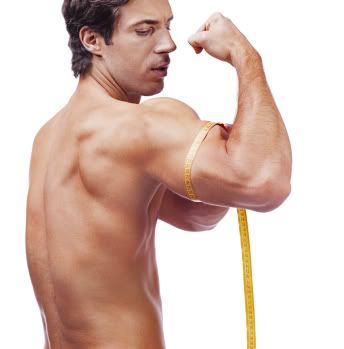 As I was reading the news this morning before heading off to work, an article in the LA Times debunking the myth of muscle gain and calorie burn sparked my interest. A 20% gain in muscle mass will only increase your resting metabolic rate by 4-5%, translating into a mediocre less than 100 kcal increase.
Lifting weights is a great way for us to stay in shape and keep our bones healthy, but it's definitely not a viable route towards weight loss. Many people think that lifting weights at a high intensity will help them burn more calories after their work out for the rest of the day, called post-exercise oxygen consumption, but this consumption is very insignificant to make any weight loss gains.
Aerobic activity along with a sensible diet is the best recipe for weight loss and calorie burn. Running and other aerobic activities burn twice as much calories as lifting weights, or doing crunches. If you want to get rid of that stomach fat you will have to keep a few factors in consideration:
-Aerobic activity- at least 30 minutes five out of seven days of the week. This will help your body burn calories, train your cardiovascular system, and run off the belly fat. Crunches won't help you show off those abdominals, rather they will strengthen your abdominal muscles underneath your belly fat. To lose that fat on top of the muscle, aerobic activity is required.
-Diet- it is very important to make healthy choices, eating lots of vegetables, fruit, lean protein, and whole grains. If you are aiming to lose weight you need to decrease your calorie intake no less than 1000 kcal per day and stay on top of yourself without cheating with processed foods.
Remember that fructose and alcohol are metabolized strictly by the liver, which puts other processes like fat breakdown on hold. 90% of your weight loss efforts will come from changing your diet, so don't disregard this one!
-Supplements- No supplement is a magic solution for weight loss, but certain weight loss supplements to support your metabolism, replenish your minerals and vitamins, and help assist you in digestion will ease the process of following a healthy diet. Once you are giving your body all the vitamins it needs, it will be easier for you to make smarter choices. Fiber and probiotics will help aid your digestion to keep your digestive system in check as well.
You are what you eat in the sense that you cannot alter your natural metabolic rate, and whatever you intake will either be stored in your body or burned with physical activity. Processed foods with lots of sugar, fructose, and additives will cause a strain on your liver, resulting in excess being stored as fat. The same goes for alcohol.
There really isn't a magic formula, as long as you can try your best to eat unhealthy things in moderation and focus on a healthy diet for the most part, you will be able to maintain your weight. If you are looking to lose weight it will require a bit of effort on your part to change your diet and incorporate more aerobic physical activity into your life.
I can personally tell you that once you try to change your diet and add exercise to your life, it's pretty easy to stick with. I'm not saying you have to be perfect every day, but it won't take too much effort to go out and walk around the park for a while, go for a run in the morning, eat an apple as a snack instead of a bag of chips, and choose wiser options when eating out.
-Katia Marinichev, Nutritional Sciences B.S., CPT